Recipes Barbecue Sauce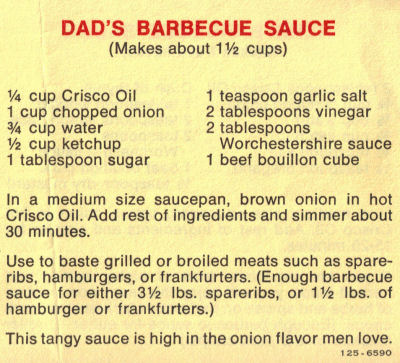 Barbeque sauce is one of the easiest sauces to make and you can easily adjust your liquid ingredients to make the consistency of the sauce just the way you like it whether it be medium or extra thick.
Ingredients
1 – 8 ounce can of tomato sauce 1 – 6 ounce can of tomato paste (use 4 ounces for thinner sauce) 2 Tablespoons of Worchester sauce 1 Tablespoon of apple cider vinegar 1 Tablespoon of onion powder 1 Tablespoon of garlic powder 1 Tablespoon of dry mustard 1 Tablespoon of cayenne pepper 1 Tablespoon of honey 1 tablespoon of sugar
Combine all ingredients in a sauce pan and cook on low heat until it starts to boil then simmer for 20 minutes. After it cools put the sauce in an air tight container and store in the refrigerator.
This sauce is great for marinading meat, grilling and even as a dipping sauce for chicken tenders.
Source:
Image Credit